Welcome to the Cannon Busters Wiki!
Welcome to the Cannon Busters Wiki, the wiki dedicated to Cannon Busters.
Please be aware that the pages on this wiki may contain spoilers.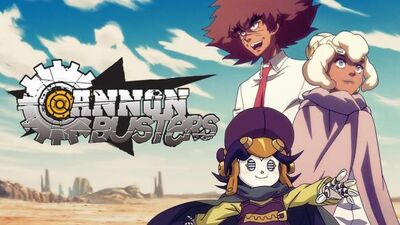 Wiki (Rules • Admins)
Cannon Busters • (Anime • Comic
Characters
Cannon Busters is a short comic series by LeSean Thomas which was later adapted and expanded into an anime by Netflix, there is currently one season of the anime.
Anyone can contribute to this wiki.
There are other editors who can improve what you contribute. Don't be afraid to jump in and start it!
The optimal visual and social experience on this wiki is available with a free personal Fandom account.
If you have trouble getting started and are new to collaborative editing, check the wiki tutorial.
Expansion of existing pages, maintenance of articles and creation of wanted pages is helpful.
You can also be part of the larger Fandom family of communities. Visit Fandom's Community Central!
Explore the fantastic land of Gearbolt as we follow a motley crew of travellers on an unforgettable journey to reunite two best friends.
S.A.M. is a high-end, friendship robot determined to reunite with her best friend Kelby, the missing heir to her Kingdom under siege. Casey Turnbuckle is an out-dated, spunky grease-monkey repair robot, looking for an upgrade. Philly the Kid is a wanted, immortal fugitive just looking for a chance to shake them. Along for the ride is the greatest swordsman never known and an oversized Cadillac Eldorado that transforms into a sentient, giant robot. On their own, they're a lost cause. Together, they're the hippest group of travellers in action-fantasy.
65 articles since August 17, 2019
38 images uploaded since August 17, 2019
729 edits made since August 17, 2019