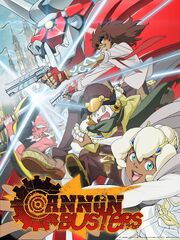 Cannon Busters is a Netflix anime adaptation of the Cannon Busters comic series. Its twelve-episode first season was released on Netflix on August 15, 2019.
Production
[
]
In 2014, LeSean Thomas started a crowdfunding drive through Kickstarter for an animated adaptation of Cannon Busters.[1] Helping with the project are Tim Yoon who worked as a producer for shows such as The Legend of Korra and Batman: Under the Red Hood, comic book artist Joe Madureira who assisted with character designs.
A pilot episode was released to backers on July 8, 2016.
On August 2, 2017, it was announced that Cannon Busters would be released on Netflix.[2] It is a 12-episode series. On July 6, 2018, Netflix announced a March 1, 2019 premiere date.[3] However, the series was delayed as it was not included in the Netflix slate for March 2019.[4] On May 30, 2019, British anime distributor Manga Entertainment appointed Reemsborko Ltd as the worldwide agent for Cannon Busters and that the series would be released on Netflix in late 2019.[5] The series was released on Netflix on August 15, 2019.[6] The 12-episode series was directed and written by LeSean Thomas, with Matt Wayne, Natasha Allegri, Anne Toole, and Nilah Magruder writing scripts alongside Thomas.[7]
Takahiro Natori debuted as a director with the series with LeSean Thomas himself acting as chief director; character designs were handled by Tetsuya Kumagi, and the series featured music composed by Bradley Denniston and Kevin Begg. Satelight and Yumeta Company produced and co-animated the series.
Episodes
[
]
Cast
[
]
References
[
]
External links
[
]